*NEW* Adopt-A-Day Fundraiser!
June 13 – July 14, 2022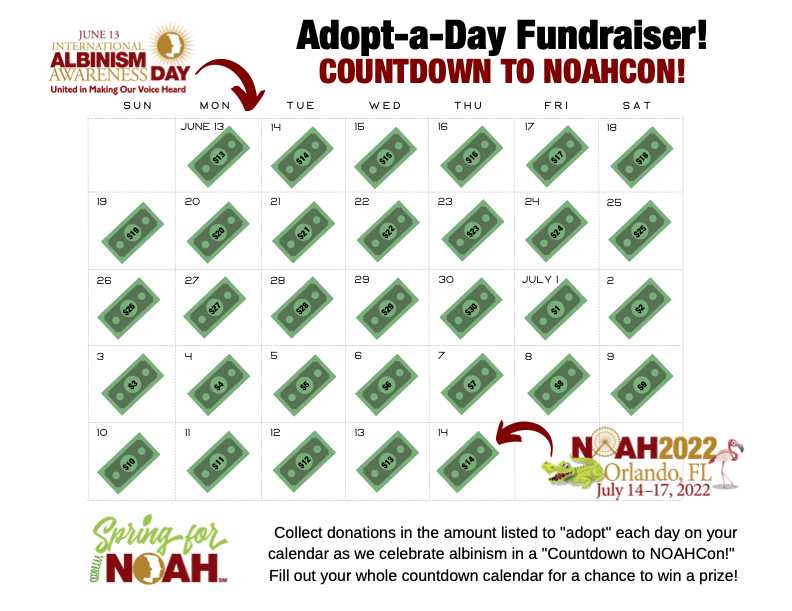 Looking for a fun and easy way to support NOAH? Join us for our Adopt-A-Day Fundraiser!
Each day on our Countdown to NOAHCon! calendar has a dollar amount – ask your family and friends to adopt a day by making a donation in that amount. Fill your whole calendar with donations (each full calendar represents $492) and you'll be entered to win a NOAH Prize Pack…it's that easy!
Whether you're attending the conference or not, this is a fun and easy way to raise albinism awareness and support NOAH! Be sure to tag your friends on social media and use the hashtags #SpringforNOAH #CountdownToNOAHCon! Let's see if we can have every state in the United States and every province in Canada represented as we Spring for NOAH and COUNTDOWN TO NOAHCON!
Print your calendar! ~ Instagram Story Calendar ~ Calendar Image File
Adopt-a-Day Fundraiser – FAQ
How do I collect donations?
Donations can be collected any way that works for you! We suggest creating a peer-to-peer fundraising page as part of our Spring for NOAH fundraiser, or creating a Facebook fundraiser. Other options include collecting donations in person and sending a check to NOAH, posting your calendar on Facebook with a donate button, putting a donate link in your Instagram story, or collecting donations through an app like CashApp or Venmo.
Are donations made to this fundraiser tax-deductible?
Yes! Donations made to the adopt-a-day fundraiser are tax deductible. If donations are made directly to NOAH – through a peer-to-peer fundraising page, Facebook Fundraiser, etc. – no further action is needed on your part. If you are collecting donations via cash or through an app like Venmo or CashApp, please send a list of your donors and their donation amount to NOAH so that we can send them a receipt!
Can someone adopt more than one day?
Of course! There's no limit on how many days one supporter of your fundraiser can adopt.
What happens if someone donates to "adopt" a day that is no longer available?
If someone donates to "adopt" a day that isn't available on your calendar anymore, you can put their donation towards adopting another day!
How do I keep track of which days have been adopted?
Up to you! You can print out the calendar and cross out or mark off days that have been adopted on paper, or keep track digitally. We have the calendar available in pdf and image forms (formatted for social media) – you can feel free to print it out as many times as you'd like, or post on your fundraising page or social media accounts during your fundraiser!
Have another question not answered in our FAQ?
Send us a message at fundraise@albinism.org!