Meet the 2022 Leadership Scholarship Winner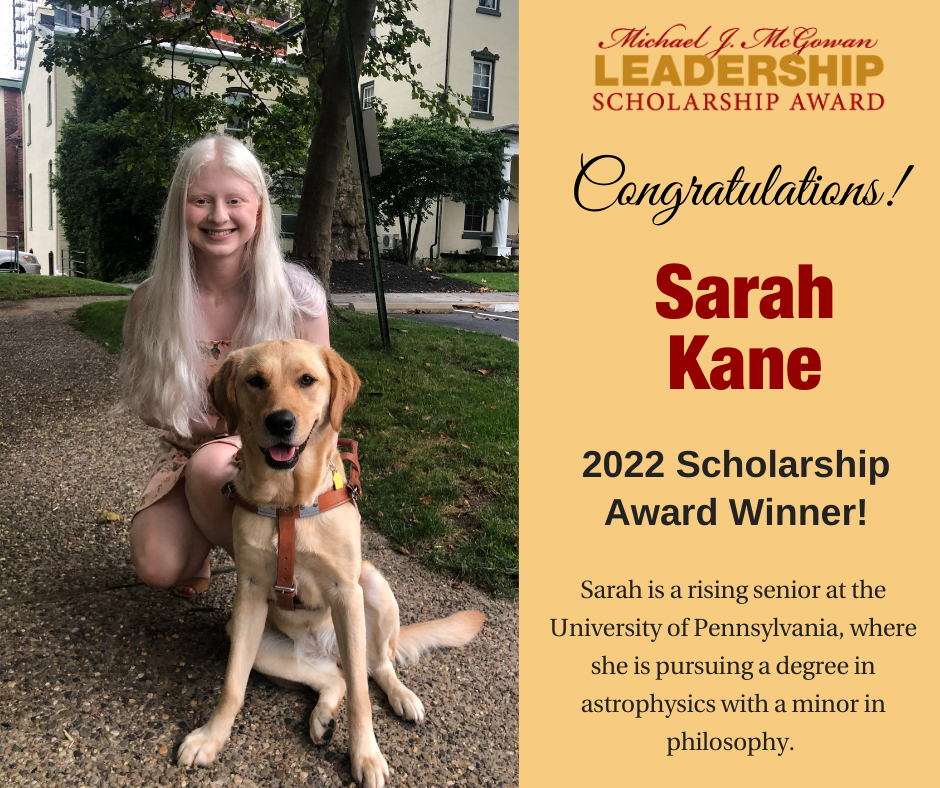 Sarah Kane
NOAH is thrilled to announce that Sarah Kane, a rising senior at the University of Pennsylvania in Philadelphia, has been selected as the recipient of the 2022 Michael J. McGowan Leadership Scholarship Award.
Sarah majors in physics, specifically astrophysics, with a minor in philosophy. She has engaged with the NOAH community from a young age, and she works to make the science world more inclusive for people with disabilities. She co-hosted the first NOAH Connections calls for people with albinism in STEM fields, which brought together interested high school students and established software engineers. As a student at Penn, she served as a Research Peer Advisor at the Center for Undergraduate Research and Fellowships, for which she hosted a workshop on getting involved with undergraduate research as a student with a disability, covering topics such as disclosing disabilities and reasonable accommodations. Literally taking her ambitions to the stars, Sarah also worked as a usability tester for Astronify, a NASA project that seeks to turn visual astronomical data into sound for the purpose of making that data more accessible to people with visual impairments.
Last December, Sarah coordinated a field trip for students from the Overbrook School for the Blind (in Philadelphia) to Penn's Department of Physics and Astronomy. The students performed an activity on the behavior of waves, and professors gave talks on topics ranging from black holes to how telescopes work. As Sarah expresses, "As a high school student, it would have meant a great deal for someone to have told me that even though there are challenges, it is possible to be blind and to study physics and astronomy. I am excited to continue sharing my love for astronomy and advocating for inclusion in the sciences–both during the remainder of my undergraduate studies and beyond."
---
Meet the 2022 Honorable Mention Applicant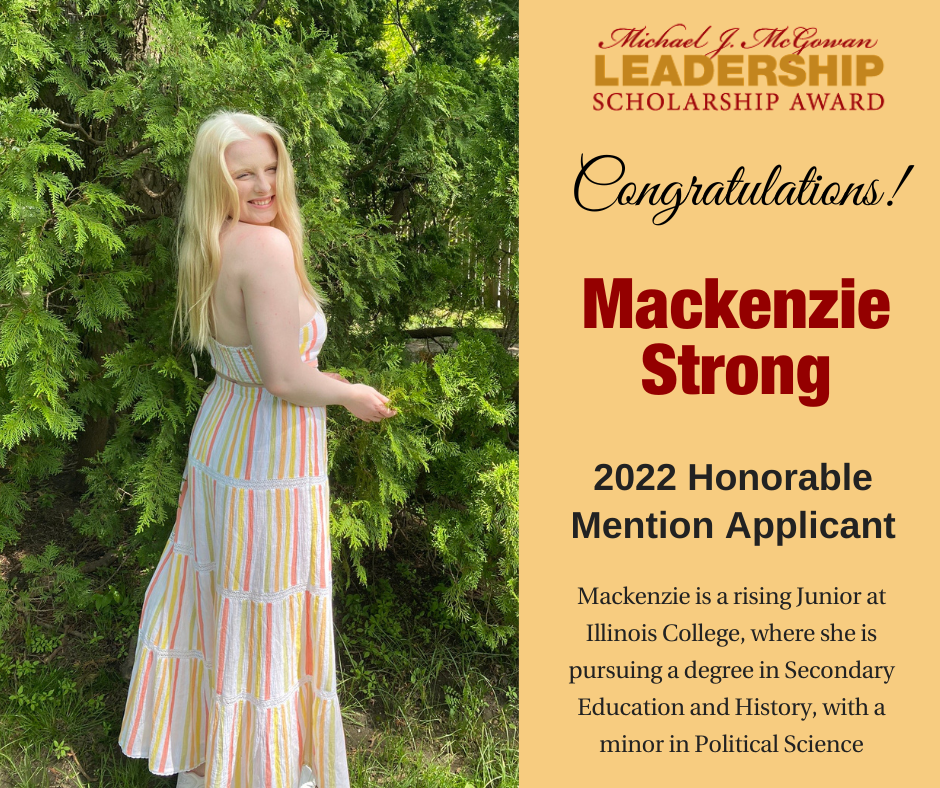 Mackenzie Strong
NOAH is pleased to share that Mackenzie Strong, a rising junior at Illinois College, has been selected as Honorable Mention Candidate for the 2022 McGowan Leadership Scholarship.
Mackenzie majors in Secondary Education & History, with a minor in Political Science. In addition to her studies, Mackenzie has hosted or co-hosted NOAH Connections calls, and uses her social media presence to spread albinism awareness.
A frequent advocate for inclusion, Mackenzie's efforts in her hometown and on her college campus have resulted in new programming for blind and visually impaired individuals. She is also the president of a new disability advocacy program at Illinois College called VIDA, which has partnered with the school's Student Athletic Advisory Committee to raise awareness of the Paralymic Games, and given student athletes the chance to interact with Paralympic athlete, Colleen Young, via zoom.
Mackenzie takes great pride in her work to spread albinism awareness and aims to continue finding new ways to show PWAs that they can achieve their dreams.
---
The Michael J. McGowan Leadership Scholarship is awarded annually to empower young people with albinism and celebrate their dedication and outstanding leadership qualities.