Local Events and Groups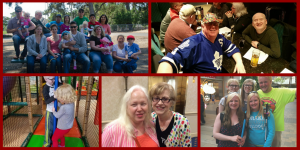 Get involved locally and enjoy fun and fellowship in the albinism community. Both people with albinism as well as parents of children with albinism can share their experiences. It's a place where questions can be asked and answered about living with this rare genetic condition.
Get the Word Out
Is an event happening in your area?  Contact the NOAH Webmaster to have it posted here.
Ideas for Get Togethers
| | |
| --- | --- |
| Picnic |  Happy Hour |
|  Bowling |  Evening Pool Party |
|  Lunch or Dinner |  Game Night |
|  Ice Cream Social |  Planetarium |
|  Roller Skating |  Pub Trivia |
|  Miniature Golf |  Movie (everyone sits up front) |
| Play Date (Kids or Adults!) |  Museum (ask for tours for the visually impaired) |
Do you have other ideas for our get-together list? Send them to the NOAH Webmaster.
---
Local NOAH Events

Philadelphia – April 5, 2019
Bites with the Board
Join NOAH's Board of Directors for a bite to eat, enjoy the company of area NOAH members and hear the latest news in the albinism community.
Friday, April 5, 2019
6:00 – 8:00 PM
Doubletree by Hilton Hotel
4509 Island Avenue
Philadelphia, PA 19153
$19 – adults
$14 – children
Paid pre-registration is required! Buy your tickets on the Bites for the Board Event Page by March 22nd to attend. 
---

Northern Illinois NOAH – July 27, 2019 
Pool Party
Bring your sunscreen, swimsuits, and hats for a fun-filled afternoon. It will be a swimmingly good time!
Saturday, July 27, 2019
3:00 – 7:00 PM
Schroeder's Home
St. Charles, IL
(address will be provided upon RSVP)
Email ninoah@albinism.org to RSVP!
Check back often for local event updates!
---
Past Local Events

Northern Illinois NOAH – November 9, 2018
Please join us for a great evening of dining, dancing, live music,
silent auction and more. Be part of the experience!
Friday, November 9, 2018
7pm – 11pm
Victoria of Rosemont
6600 North Mannheim Road
Rosemont, IL 60018
Black Tie Optional
Ticket sales are now closed

Single Ticket – $75.00/person
Table of 8 Attendees – $550.00
Ticket includes dinner and drinks
If you are unable to join us for the evening,
would you consider a tax-deductible donation that will benefit the NOAH Community?
Hotel Reservation Information:
Room Rates
$95 for a king*
$105 for a double*
(*listed rates do not include additional 14% tax)
Breakfast is included in the room rate.
Reservations must be made by October, 19, 2018 by calling the hotel directly at 847-544-7500.
Please use the group code "NOA" when making your reservation.
---
Houston, Texas – August 8 – 10, 2018
Space Center U® Visual Impairment (VI) Program is a new challenging three-day program for visually impaired students ages 15-18 that will run 8 a.m. to 4 p.m. August 8 – 10 at Space Center Houston.
Space Center Houston – Space Center U Visual Impairment Program
Envision, execute, explore and leave this planet with Space Center U Visual Impairment Program designed to meet the needs of students with low vision or blindness.
Envision:
The program combines classroom theory with cognitive and tactile tasks.  It also promotes teamwork, problem solving, and communication.
Execute:
Participants will have access to visual assisting devices and technology.  At the conclusion of the program there will be a graduation ceremony and an opportunity to have brunch with an astronaut.
Explore:
Participants have the opportunity go on exclusive tours of the center.
Pricing:
$349.95 per participant
Contact Information:
Stephanie McMahon
smcmahon@spacecenter.org
281-244-2147
https://spacecenter.org/space-center-u/visual-impairment-program
---
Atlanta – April 28, 2018
Bites with the Board Atlanta
Join NOAH's Board of Directors for a bite to eat, enjoy the company of area NOAH members and hear the latest news in the albinism community.
Saturday, April 28th @ 1:30PM
Rosa's Pizza
62 Broad Street NW, Atlanta, GA 30303
www.rosaspizza.net
Dutch Treat – no pre-registration fee to Reserve your Spot.
Menu includes pizza, calzone, subs, Italian dishes and salad – gluten free options available.
---
Austin, Texas – April 22, 2018
The Texas School for the Blind and Visually Impaired: Low vision conference, "Supporting students with albinism"
"Makes me unique" were the three words on the poster created by one student with albinism who participated in NOAH's "My Three Words" YouTube video. Feeling good about yourself when you stand out as unique can be a tricky path. Students with albinism have unique needs in addition to having low vision and providing service for this student population is the focus of our 2018 Low Vision Conference.
Program highlights include an interactive session on genetics of albinism with Dr. Murray Brilliant, a renowned researcher who has dedicated his professional work to this topic and a session focusing on psychosocial impact with Ms. Kelsey Thompson, a licensed clinical professional counselor and a certified rehabilitation counselor.
Registration:

Early Bird Registration continues through April 22, 2018 for the discounted price of $30 for all participants. After April 22nd the fee rises to $50. Registration online is through our trusted partner, ESC Works. You may pay immediately with a credit card or you can register now and pay later to get the discount fee if you pay with a check or purchase order. Send payment to:
Cashier
c/o TSBVI Business Office
1100 W. 45th Street
Austin, TX 78756
For more information visit http://www.tsbvi.edu/low-vision-conference-albinism
---
Massachusetts – Sunday, March 11, 2018
Albinism Book Discussion Group
Hosted by the Rossi-Kessel family, people between the ages of 12 and 16 who have albinism (or have family members with albinism) are invited to read the book Golden boy, by Boston author Tara Sullivan. The author will join us for the discussion and share her story of writing the book with slides from her visit to Tanzania!
Invitation and RSVP information at http://evite.me/d1dgkWeuNC.
---

Run, Walk and Roll in Wisconsin! – September, 22, 2018
Please join us by walking,  running, and rolling in support of the disability community in Milwaukee and NOAH, National Organization for Albinism and Hypopigmentation.
$5
 from each registration through this link will be donated to NOAH.
When:
Saturday, September 22 at 9AM
Where: Hart Park
             7300 Chestnut St.
             Wawautosa, WI 53213
Lunch and other activities are included.
Come raise awareness and funds and have fun with your NOAH family and friends–a great fall get together in the park.
Questions? Email Joni at jonella59@hotmail.com
---
Seattle, WA – October 6, 2018
Seattle Albinism Community Outing!
2018 Sunflower Jubilee
Stocker Farms
8705 Marsh Rd
Snohomish, WA 98296
October 6th at 10:30am
Bring your family to the 2018 Sunflower Jubilee and get lost in a sea of beauty and enjoy the different varieties and colors. Sunflower Jubilee ticket Includes all Family Adventure Farm activities (Corn Maze, Hayride, Jumping Pillow, Barrel Train Ride, Hamster Wheels, Farmer Foosball, Ball Zone, Duck Races, Candy Cannon, Tire Mountain, Spookley's Playhouse, Tug-O-War and our Giant Pumpkin Patch. (Pumpkin Purchase is separate.)
Buy tickets for the Sunflower jubilee at https://stockerfarms. ticketleap.com/50-percent-off- ticket/dates/Aug-17-2018_at_ 1200AM by August 31st to SAVE 50%!
RSVP to the Seattle Albinism Community FB group or to seattlealbinismcommunity@ gmail.com.
---
Northern Illinois NOAH – October 7, 2018
4th Annual NOAH Fall Play Date
Limited space RSVP by September 24th
RSVP or Questions email: kiakidd419@gmail.com
---
Local NOAH Groups
Do you have a local group that you would like listed? Send your information to the NOAH Webmaster.