Take a look at the scholarship opportunities that are made possible through NOAH and its partners.
---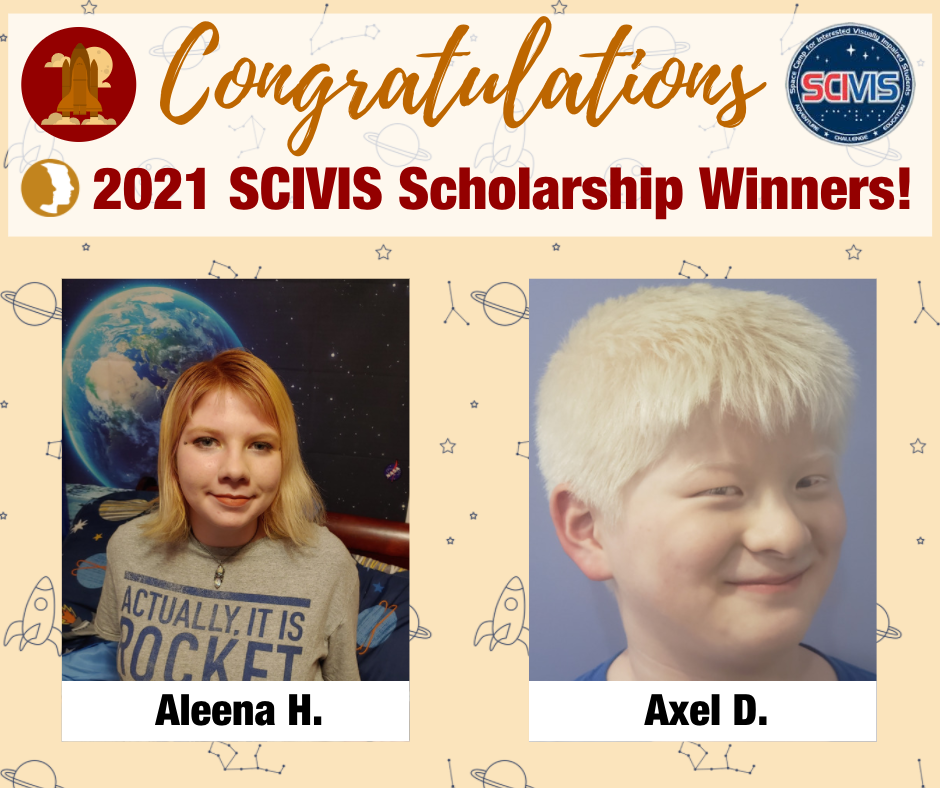 NOAH offers scholarships to the Space Camp for Interested Visually Impaired Students (SCIVIS) at the U. S. Space & Rocket Center in Huntsville, AL. This is an opportunity for children with albinism to attend this one-of-a-kind camp.
Eligible students must be at least 10 years old and in the 4th grade or higher.
---
This scholarship is awarded to a NOAH member with albinism who resides in the U.S. or Canada and is enrolled in an undergraduate program in the U.S. or Canada. The intent is to enhance educational opportunities for students with albinism while celebrating dedication and outstanding leadership qualities.
Learn more and apply for the McGowan Leadership Scholarship today!
---
Outside Scholarships:
#RAREis Scholarship Fund
The EveryLife Foundation for Rare Diseases is pleased to open applications for the second year of the #RAREis Scholarship Fund. Thanks to the support of Horizon Therapeutics plc, one-time awards of $5,000 each will be granted to up to 35 recipients for the Fall 2021 semester.
Who is eligible?
Any rare disease patient pursuing accredited classes at any stage in their life
Full-time, part-time or trade school students
Non-traditional students (students do NOT need to be pursuing an undergraduate or graduate degree)
The #RAREis Scholarship is available for any rare disease patient who is age 17 or older and has a US residency. This scholarship is not degree specific or dependent on a four-year of two-year degree program, students must be enrolled or planning to enroll in an accredited course(s) for Fall 2021 Semester.
If finances have held you back from taking that class you've always wanted, now is the time to go back to school and pursue those dreams.
(Deadline for application is May 7th, 2021 @ 3:00 p.m CDT)
The American Council of the Blind has a great opportunity for students who are legally blind to earn a scholarship, whether you are going to a technical college, an entering freshman, undergraduate or a graduate student.
To be eligible, you need to be legally blind, maintain a 3.0 GPA, and be involved in your school/local community.
Applications for the 2020-2021 school year are no longer being accepted. Best of luck to all who applied!
All interested candidates must register for a new ACB account prior to submitting a scholarship application online. Visit the ACB website to register for the Scholarship.
For more information, please contact Nancy Feela in the ACB National Office at (612) 332-3242 or (800) 866-3242.
Team See Possibilities is currently accepting applications to become a Team See Possibilities Scholar.
To be eligible to apply for this award, you must:
be a graduating high school Senior, or be pursuing an Undergraduate or Graduate degree, or Professional Trade at a Vocational or Trade School.
be considered legally blind as defined in the Supplemental Security Income program, under Title XVI of the Social Security Act, which currently states:

"(2) An individual shall be considered to be blind for the purposed of this title if he has central visual acuity of 20/200 or less in the better eye with the use of a correcting lens. An eye which has a limitation in the field of vision such that the widest diameter of the visual field subtends an angle no greater than 20 degrees should also be considered as having a central visual acuity of 20/200 or less."
Applications are no longer being accepted for 2020. Check back for more information about scholarships for 2021.
For more information visit: http://www.teamseepossibilities.com/become-a-scholar.html
NOTE: NOAH provides this information solely as a convenience to the albinism community. NOAH has no relationship with these scholarships, nor any responsible for the accuracy or content of information contained in these sites.